Link Wray was een Shawnee indiaan uit het plaatsje Dunn in North Carolina, USA. Hij legde de basis voor ondermeer heavy metal, punk en grunge en beïnvloedde veel bekende muzikanten.


Zijn muziek is te horen in de films "Pulp Fiction", "Confessions of a Dangerous Mind" en "Independence Day". Artiesten en bands als de Sex Pistols, Frank Zappa, Boz Scaggs, Pete Townshend (The Who), Paul McCartney, Jimmy Page (The Yarbirds, Led Zeppelin, Bad Company), Jeff Beck, Jimi Hendrix, The Cramps, Eric Clapton, Bob Dylan, David Bowie, Jerry Garcia (Grateful Dead) hebben allen
Link Wray
genoemd als een van hun grootste muzikale invloeden.

Link Wray werd als Fred Lincoln Wray geboren op 2 mei 1929 (sommige bronnen moemen 1935) als zoon van twee straatpredikanten ("We was raised on gospel music and black blues. That's where I come from"). Hij overleed op 5 november 2005 in Kopenhagen; In 1978 was hij naar Denemarken geëmigreerd. Bij zijn overlijden liet hij een belangrijk muzikaal testament achter aan de gehele muziekwereld. Hij deed dat niet zozeer in hoeveelheid opgenomen werk en misschien niet eens in de kwaliteit van zijn opgenomen werk (hoewel in zijn jaren bij het label Polydor uitstekende opnamen zijn gemaakt). Zijn nalatenschap bestond veeleer uit iets veel groters: met zijn eigen specifieke geluid legde hij de basis voor moderne muziekstromingen. Zonder hem had de Rock 'N' Roll niet geklonken zoals hij nu klinkt.

Link Wray begon op zeer jonge leeftijd met gitaarspelen, nota bene op de gitaar die door zijn vader aan zijn broer Doug kado was gedaan. Het fundament voor zijn onsterfelijkheid legde hij in 1957 met het nummer 'Rumble'. In dat jaar vormden Link en zijn broers Doug en Vernon als The Wraymen de begeleidingsband van The Diamonds. Tijdens een optreden werd hun gevraagd 'The Stroll' te spelen, een van de nummers van The Diamonds. Link had echter geen idee hoe het nummer ging. Toen drummer Doug en neef Shorty Horton een 'stroll'-achtig ritme aangaven volgde Link met de gitaar en speelde hij een aantal basis riffs die ze de laatste tijd hadden geoefend. Hij speelde en improviseerde en het geluid werd zo opzwepend en dreigend dat het publiek tot drie keer toe om een herhaling vroeg.
Op die avond werd 'Rumble' geboren. Kijk naar de Youtube video uit 1978 en realiseer je dat dit nummer geschreven is in 1957, het jaar waarin Elvis Presley ondermeer op de hitlijsten stond met 'All Shook Up' en 'Jailhouse Rock', Harry Belafonte met de 'Banana Boat Song', de Everly Brothers met 'Wake up Little Suzie' en Buddy Holly met 'Peggy Sue'!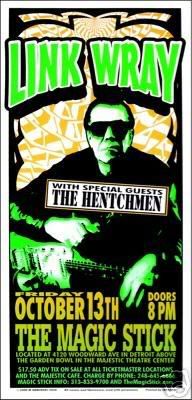 Oorspronkelijk noemde Wray het nummer 'Oddball'. De eigenaar van Wray's toenmalige platenmatschappij Cadence Records, Archie Bleyer, was erg sceptisch over de kwaliteit en potentie van het nummer. Bleyer werd echter overgehaald het nummer uit te brengen door zijn tiener-dochter die juist erg enthousiast was. En Bleyer was degene die daarna de titel veranderde in 'Rumble', een verwijzing naar de 'rumble' in West Side Story.

In de opnamestudio lukte het Wray echter maar niet om hetzelfde geluid te produceren als op het podium. Link had het gevoel dat dit iets te maken had met de tweeters van de versterker. Het verhaal gaat dat hij daarop met een potlood een aantal gaten stak in de tweeters. Dat veroorzaakte het ruige geluid waar hij naar zocht.

Al vlug werd 'Rumble' geweerd van de Amerikaanse radiostations. Het werd gezien als suggestieve en agressieve muziek. Toch werd het nummer opgemerkt en het was de mainstream televisie die het onder de aandacht van het grote publiek bracht: "'Rumble' came out on St. Patrick's Day and it went out right in the charts with a bullet, played on the Dick Clark show, a syndicated show, so when he played something, it meant something," adus Wray. De Dick Clark show was zeker een goede kruiwagen. De show zond ondermeer optredens uit van Jackie Wilson, Chuck Berry, Bill Haley and The Comets, Sam Cooke en Chubby Checker. Het zou het begin zijn van de legende Link Wray.

Jaren later zouden bands als de Sex Pistols, Status Quo, Kiss, Metallica en Queen het drijvende ritme en de vervormde geluiden uit de versterker, zoals Link Wray die voor het eerst gebruikte, met succes toepassen in hun eigen muziek.

Info:
Web: fanpage van Link Wray